The kids excitedly called out "hello" to me as I rode by.
The mountains rose up out of the ground as if spontaneously popping up to greet me.
The rice terraces seemed like a an endless green carpet leading to an eternity of natural beauty.
Farmers smiled and raised their hands to make a peace sign.
Our biker gang rode by, each person in turn yelling a similar hello or flashing peace right back.
I'm speaking of Phong Nha (Ke Bang) National Park near Hue in Vietnam.
Is this paradise? It's darn close.
Phong Nha wasn't really even on my radar until I teamed up with my Vietnam travel buddy, grill master Double D, who told me about the famous caves in the area.
I had certainly heard about all kinds of caves in Vietnam, but had no idea how amazing and still unchanged these caves would turn out to be.
Apart from that, renting motorbikes and exploring the area for a couple of days in a row made this area the most beautiful, enjoyable, and amazing part of my entire month in Vietnam.  Here's why:
The Dark Cave
This cave is accessed by either kayaking or swimming to the cave mouth, and requires a guide.  This ended up the most expensive part of the day, but was so much fun, we were happy to pay.
The cave is darn muddy.  At first, I just accepted that, yes, I was going to have some really muddy feet.  Then my legs got involved as the mud got deeper.  Before I knew it, I was waist deep and, while rounding a corner, huddled behind a rock as a barrage of mud balls came raining down on me.
It was time for a mud war!  
Our group of five ended up practically swimming in the mud by the end of it, throwing mud at each other every now and then and finally just accepting the muddiness and fully immersing ourselves, hair and all!  The guide even got in on it, all of us laughing and playing like children again.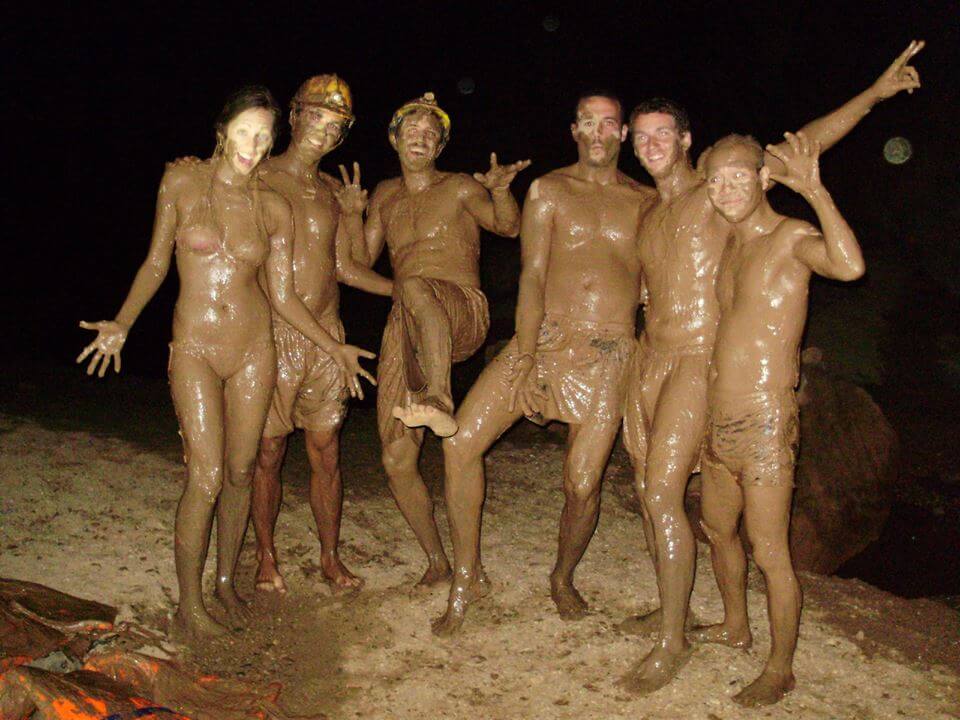 When I finally washed the mud off at back at the mouth of the cave, I realized that as the mud washed off it left my skin and hair incredibly soft.  People pay good money for this kind of thing in fancy spas!
If you're a confident swimmer, bypass the kayaks and just swim to the mouth of the cave to save some money.  Do this whole thing in a bathing suit, or clothing that you're OK with getting muddy and wet.